Since this is a blog about the wildlife in our garden it seems only right to say a few words about the wildlife in our garden of the moment. Right now we're on holiday and 'our garden' is the gorgeous St Martins Campsite on the Isles of Scilly.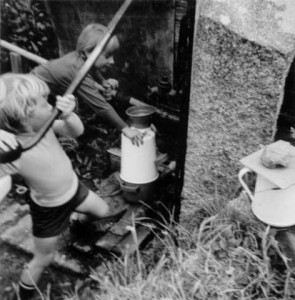 I first came here 40 years ago, when fetching water meant taking the water container half a mile up the road in a rickety old push chair to pump spring water with an ancient pump in the farmhouse garden. The less said about the toilets the better! Nowadays there's a fine and well kept toilet block with running water, and wi-fi throughout the campsite. But surprisingly little else has changed.
One of the delightful things about the islands is the wildlife. We've been out kayaking past puffins and over star fish, seen anenomes and crabs whilst snorkelling and been sized up by passing seals. But on the campsite itself there's plenty to see too, and often at much closer quarters than usual.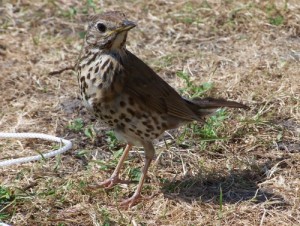 The birds are fearless. Sparrows, blackbirds and thrushes wander about the site scrounging, quite happy to eat the crumbs beneath your table whilst you're still sitting at it, or helping with the washing up by picking the remaining grains out of your muesli bowl. Sophie managed to get a thrush to pick up cake from within about 15cm of her, though it wouldn't quite take that final step and eat from her hand.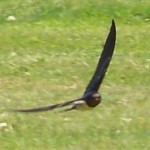 Swallows dart about the campsite at low altitude feeding. Up at the farm barn there's a nest and the adults seem quite happy to dart in and out whilst Ben, one the campsite owners, works on his landrover. This photo is a couple of days old now—when we walked past yesterday most of the chicks had moved out to sit on rafters or the light fitting. On our way back a few hours later one or two had returned to the nest and were being fed.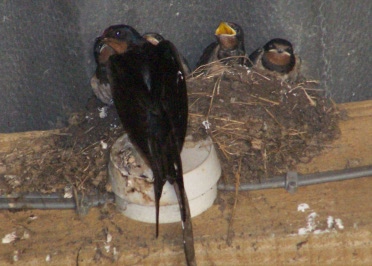 Even the campsite sward looks as if it might be interesting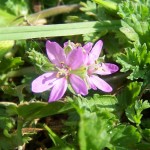 to those that know about these things; which doesn't include me. I recognize the eggs and bacon, but I've no idea what this little flower is.
In far too few days time we will have to make our way back home. But the journey, too, can bring encounters with wildlife. In the past we have seen both dolphins and basking sharks from the ferry back to the mainland, and some friends we met here have just told us that they have seen minke whales on the journey.